The Libraries will offer doorway pickup of library materials during the construction closure beginning Friday, September 9. Books, magazines, and DVDs may be placed on hold; course reserve items will be available for regular checkout.
Holds may take up to three days to become available, or longer for items coming from Oakland. Once available, items will be held for 7 days. If your account is expired or you need help placing holds, email us.
Step-by-step instructions
Place a hold on the item you wish to check out: Look for the Place a Hold button on the right side of the item's record: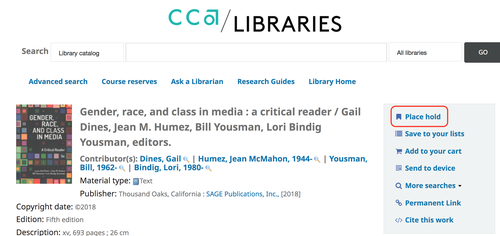 After logging in to your library account, click Confirm Hold: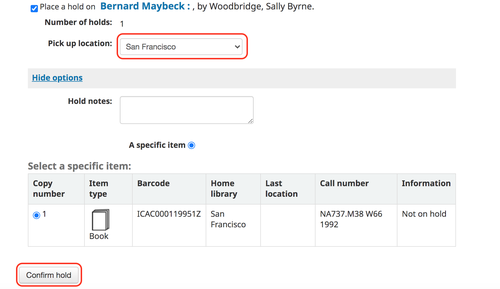 Wait until you receive an email notifying you that the hold is Available for Pickup. This may take up to 3 days or longer for items coming from Oakland.
Once you receive your email notice with the subject "[CCA Libraries] Hold Available for Pickup at San Francisco", you may pickup up your items at the Libraries Instructional Support Office, located just outside the main library, during open pick up hours. Please refer to the Libraries home page for up-to-date hours.
Please bring your CCA ID with you when checkout out library materials.