The Simpson Library houses a collection of work documenting Joseph C. Sinel's career in design. The "father of industrial design," Sinel was an instructor at California College of Arts & Crafts in the 1920s and again in 1949/1950, later receiving CCAC's honorary Doctor of Fine Arts degree.
Biography
Joseph Sinel (1890-1975) decided at a young age that "a fellow shouldn't have to work 12 months a year" and later in life reflected upon his choice of commercial art as a vocation: "I wanted a freedom of movement, an opportunity to earn an adequate living and a chance to enjoy the fruits of the earth and the ocean and to live the unconventional life as much as I could" [all quotations, here and below, from CCAC News Release, 1970].
Sinel was born and raised in New Zealand, though his life clearly illustrates his desire to move freely:
He worked as a harvest hand and sheep shearer in Australia and served briefly in the British Merchant Marine during the early part of World War I. He has roamed throughout the United States, tramped through England and Scotland, visited the Channel Islands, climbed the Sierra Nevadas, and grown a total of twelve beards. Once he built himself a cabin of rocks and driftwood in the Sierras.
Sinel began his career as an apprentice to a lithographer, moved into advertising upon immigrating to America in 1918, and started his own design company in New York in 1923. He published A Book of American Trade-Marks and Devices for Knopf in 1924. In his long and illustrious career he designed everything from "ads to andirons and automobiles, from beer bottles to book covers, from hammers to hearing aids, from labels and letterheads to packages and pickle jars, from textiles and telephone books to toasters, typewriters and trucks." His success in New York allowed him to pick and choose jobs upon returning to the San Francisco Bay Area in 1936. He taught at a number of design and fine arts schools in the United States and for many years designed publications for Mills College in Oakland. He designed trademarks for businesses such as the Art Institute of Chicago and created book jackets for the likes of Doubleday, Knopf, and Random House. In 1955 Sinel became one of the fourteen founders of the American Society of Industrial Designers (which later merged with other organizations to become the Industrial Designers Society of America).
Joseph Sinel presented a collection of more than 1,000 of his works to the California College of Arts and Crafts in 1967. They are presently maintained in the Simpson Library (SF) and include "three dimensional models of Mr. Sinel's packaging innovations; his designs for industrial products and photographs of the products, among them the S&W coffee can, the first contemporary typewriter (a Remington), the Marchant Calculator... selected examples of his advertising designs, lettering, book designs, and trademarks" as well as sketch books, press, personal sketches, watercolors, and articles. These materials may be used for advanced research, by appointment only.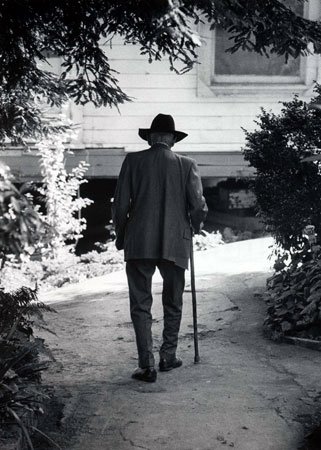 Joseph Sinel on the Oakland Campus.  Photo by Bob Fitch Photo
References
Further Reading
*biography and collection description compiled by Cody Hennesy, 2008