Archives Collection & Usage Policies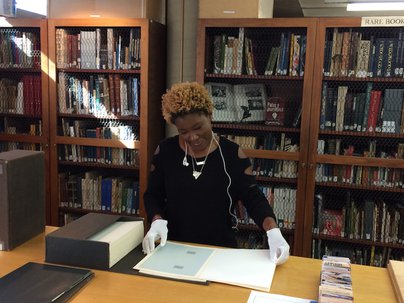 The CCA/C Archives is the repository for:
materials emanating from the college, including academic and administrative departments, satellite units, and student groups. These may be published or unpublished, and in any format physical or digital. Internal memoranda and information relating to procedural matters are typically not collected, unless deemed historically important.
materials about the college and its activities from other sources
materials about faculty and alumni
CCA/C theses
CCA/C Public Lecture Series recordings
Artwork is not generally acquired by the college, but inquiries may be directed to the Advancement office.
CCA/C Archives Usage Policy
The CCA/C Archives can be used by CCA affiliates and outside researchers by appointment. Requests to use archives material can be directed to Teri Dowling at tdowling@cca.edu or Annemarie Haar at ahaar@cca.edu. Since CCA/C Archives are not open for general browsing, researchers will be asked to identify what records and materials they are looking for before their visit. (An exception may be made for particular researchers or for CCA staff and faculty.) Archives staff will then determine whether there are relevant materials and set up an appointment for the researcher to come look at them.
Archives staff are responsible for pulling and refiling archives material, making digital reproductions, and monitoring their use. Researchers who have brought a camera to their archives appointment may photograph materials after review by archives staff. Reproduction by other means will be handled by the library and associated costs may be charged to the researcher. An exception is made when the material is or was the property of the researcher.
Generally, archives material does not circulate. Archives material may be taken out of the library only under the following circumstances:
Loan for exhibition purposes; in which case a formal loan document will be drawn up.
CCA administrative staff or faculty need to review material that will be needed for less than one (1) week and the library is unable to duplicate it in a timely manner.
License to use CCA Libraries Collections
CCA Libraries may grant permission to specific individuals or organizations to use materials from our archival and special collections. If you are interested in using one of our works, please contact us with details about the materials and your intended use. We will send you an electronic licensing agreement form to sign. The CCA Libraries do not charge for non-profit or educational use of our collections, but the parameters of specific licensing agreements may vary.