Collection Development Policy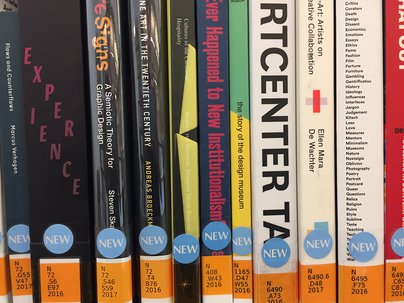 In accordance with the Libraries' mission, the CCA Libraries' collections function in tandem with library services to meet the information needs of our community. Three strategies are employed:
Acquiring and maintaining up-to-date and relevant collections, tailored to support CCA's diverse curriculum.
Providing the tools and spaces for serendipitous discovery, both physical and virtual.
Partnering with faculty to design and provide instructional services and tools tailored to the curriculum.
We utilize resources within our local and broader academic communities to fill information needs whenever appropriate. Inter-library loan and open access materials are used regularly, and we devote significant resources toward providing the necessary tools and instructional services to help CCA's students and faculty navigate the various resources available to them.
Since 2014 we have allocated a portion of our collections budget toward the Faculty Development collection. This collection supports faculty teaching and professional development, and is one part of the Libraries' partnership in Instructional Services and Technology initiatives.
As a significant California art and design library, we also collect and retain California art and design exhibition catalogs and other publications.
Simpson Library in San Francisco was established in 1986 to support the architecture and design programs. It is now CCA's primary library, housing all our circulating collections.
Simpson Library also houses and manages these special collections:
Artists' Book Collection
Literary Arts Collection
Photobook Collection
Games Collection
MUSE Carts and Science Equipment Collection

Materials Library in San Francisco was established in 1998 to support the architecture and design programs. It now serves the entire CCA curriculum, providing access to and information about new, innovative, and sustainable materials.
The Materials Library also houses these special collections:
Object Collections for Industrial Design
H&S Object Collections for Visual Studies
Meyer Library in Oakland was the original library of the college, founded in 1907. Its circulating collections have now moved to San Francisco. Portions of the collections remain in storage in Oakland, and may be accessible by request.
In storage in the "Farchives" are:
CCA/C College Archives
Hamaguchi Study Print Collection
Capp Street Project Archive
Robert Sommer Mudflats Collection
Joseph Sinel Collection
Louis Shawl Collection
Walter Landor Collection
Charles Pfister Collection
Larry Sultan Teaching Slide Collection
Steve Reoutt Teaching Slide Collection
CCA Student Work
In general, CCA Libraries do not collect student work. One exception is the occasional acceptance of student work resulting from innovative pedagogical assignments using library materials. These usually take the form of artists' books, but may take other forms. We accept no more than 5 books from any one project. To accept a student book into the library collection, we require permission to digitize the content for VAULT, and make it publicly viewable. Student permission form is here.
Digital Collections
VAULT Institutional Repository
The mission of VAULT, the digital archive at California College of the Arts (CCA), is to support on-going teaching & learning, accreditation & assessment, and marketing & promotion endeavors. VAULT also serves as a historical record of the college by collecting, preserving and sharing the digital resources created by the CCA community.
Collection Development Policy:
VAULT is the digital repository for resources created by the CCA community that include but are not limited to:
Course resources: research, teaching & learning materials
Academic output: student projects, course work and special projects as well as documentation of faculty feedback and response
Marketing and promotional materials
Digital assets of historic and enduring value for the college
Visual Resource Collections
A subscription to the Artstor digital library forms the core of the libraries' visual resource collection. Using Artstor's Shared Shelf cataloging interface, we maintain additional college image collections to support the curriculum. These collections were initially built from the Libraries' teaching resources slide collection, and are now added to selectively by faculty request. Sub-collections include:
CCA Abercrombie Collection
CCA Arts and Crafts Collection
CCA Capp Street Project Archive
CCA Contemporary Art Project
CCA Dunlop Architecture AND Interiors Collection
CCA Faculty Field Research
CCA Film and Media Resources
Collection Development and Maintenance
CCA Librarians select and maintain the collections in accordance with this collections policy and informed by the curriculum as articulated by the college. Course offerings, recommendations from students and faculty, and observed use patterns also inform acquisitions and de-acquisition decisions. Materials are regularly withdrawn from the collection to ensure the collection remains current and tailored to the curriculum.
The librarians use various acquisition tools which aid in the identification and selection of materials: Choice and other book reviews, publisher's catalogs, museum websites, vendor catalogs and websites, and general knowledge of the literature in the subject area.
Formats collected
The libraries acquire printed books and periodicals, video recordings, electronic databases, and e-books and periodicals. The libraries also maintain many special collections to support CCA's unique curriculum. This includes, but is not limited to: artists' books, board games, objects, material samples and scientific equipment.
CCA Libraries will continue to maintain a mix of physical and digital collections for the foreseeable future. In the fields of art, architecture and design, many resources do not yet exist in an electronic format, or these formats are prohibitively expensive for a college of our size.
When budgetary or space considerations must be taken into account, the Libraries will give preference to materials not available at other libraries.
Subject Areas & Collecting Intensities
Library collections support the College curriculum, and therefore primarily focus on materials specific to the majors and minors offered.
These areas are collected at the study to research level:
Fine Arts (including Animation, Community Arts, Social Practice & Public Forms, Film, and Curatorial Practice), Architecture, Design (including Design Strategy and Interaction Design), Visual Studies, Visual and Critical Studies, Writing and Literature (including Comics)
Collecting in the Humanities and Sciences is primarily at the basic to minimal level and is closely tailored to course offerings. The local public libraries' physical and electronic collections may be recommended to students and faculty to fulfill specific research needs.
Collection Intensity Levels
from Guidelines for a Collection Development Policy Using the Conspectus Model, International Federation of Library Associations and Institutions, Section on Acquisition and Collection Development, 2001
0 Out of Scope Library does not intentionally collect materials in any format for this subject.
1 Minimal Information Level Collections that support minimal inquiries about this subject.
2 Basic Information Level Collections that serve to introduce and define a subject, to indicate the varieties of information available elsewhere, and to support the needs of general library users through the first two years of college instruction.
3 Study or Instructional Support Level Collections that provide information about a subject in a systematic way, but at a level of less than research intensity, and support the needs of general library users through college and beginning graduate instruction.
4 Research Level A collection that contains the major published source materials required for doctoral study and independent research.
5 Comprehensive Level A collection in a specifically defined field of knowledge that strives to be exhaustive, as far as is reasonably possible (i.e., a "special collection"), in all applicable languages.