The CCA Archives house a collection of materials documenting the public artworks created in the Emeryville Mudflats during the 1960s, 70s, and 80s. The collection is comprised of the Robert Sommer Collection, photographs and ephemera, and the Mudflats Oral Histories, interviews of creators. A portion of the collection is available digitally in CCA's digital archive VAULT and in the Internet Archive's California College of the Arts Libraries collection. Physical materials may be used by appointment for research purposes.
Mudflats History
The Emeryville Mudflats was a drive-by whimsical sculpture garden that exposed the populace to a radical form of public art. These anonymous sculptures made out of detritus emerged from the muddy lowlands along the Nimitz Freeway. What began as an art school experiment became a mysterious cultural landmark of the San Francisco Bay. The Emeryville Mudflats was made by the masses, edited by the public and celebrated by an audience of drivers heading west on the I-80. It was an epic chaos that reflected the complex reckoning of history within the American Experience.
Robert Sommer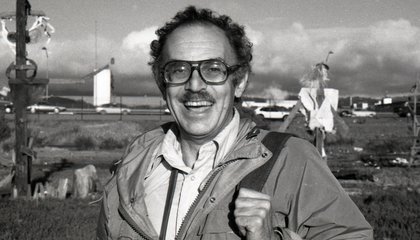 Robert Sommer, Emeryville Mudflats 1981
From the 1960s through the 1980s, environmental psychologist Robert Sommer photographed the sculptures in the Emeryville Mudflats. Sommer's interest in the works of community creators and art pieces made with the focus of developing local culture in public spaces manifested in his 1975 book Street Art, in which he calls the Emeryville Mudflats "the finest public sculpture gallery on the West Coast."
CCA's connection to the creative activity at the Mudflats in the 1960s led Sommer to offer his works to the college and in 2011 he donated over 5,000 of his photographic images.
Oral History Project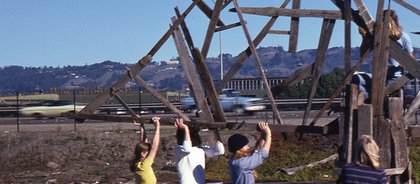 California College of the Arts (CCA) Libraries partnered with local historian and artist, Joey Enos, to enrich the historical record of the Emeryville mudflat sculptures by recording the oral histories of key sculpture builders and participants. The Emeryville mudflat oral history recordings are available digitally in CCA's online archive. Funding for the oral history initiative was provided by a 2017 California Humanities grant.
This project was made possible with support from California Humanities, a non-profit partner of the National Endowment for the Humanities. Visit www.calhum.org.

Links
References
Street Art Author: Robert Sommer. (1975), pp. 33-41 Published by: Links Books.
Personal Space: The Behavioral Basis of Design. Author: Robert Sommer. Review by: Glenn C. McCann. "American Sociological Review" Vol. 35, No. 1 (Feb. 1970), pp. 164-165 Published by: American Sociological Association Stable