In the closing decades of the 20th century, Design Book Review was the preeminent journal dedicated to reviewing architecture and design books in the United States. Architectural critic Michael Sorkin once wrote, "Design Book Review is no less than the indispensable record and liveliest critique of contemporary architectural consciousness."
For the first time, the entire content of Design Book Review is available online. Any readers interested in the recent history of trends and debates in design and architecture now can see the pages as they were first published. Design Book Review provides a wonderful glimpse of published writing on architecture and theory just before the advent of the digital age.
Farewell, Richard Ingersoll
The California College of the Arts is sad to announce the passing of former Design Book Review editor Richard Ingersoll. Richard was involved in writing and editing of Design Book Review from its first issue in 1983 and eventually became the primary editor of the journal until 1998. Richard was a brilliant scholar with a deep understanding of contemporary architecture, design, architectural history, landscape architecture, and urban planning. Those of us who worked with Richard found him a kind and generous colleague who was admired by all. To remember Richard, we highlight four examples of his writing from the pages of DBR below.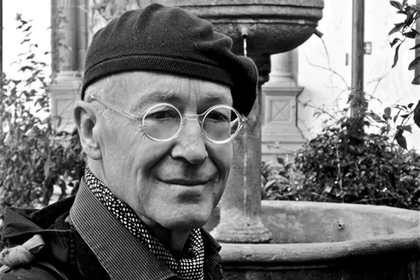 Richard Ingersoll (1949-2021)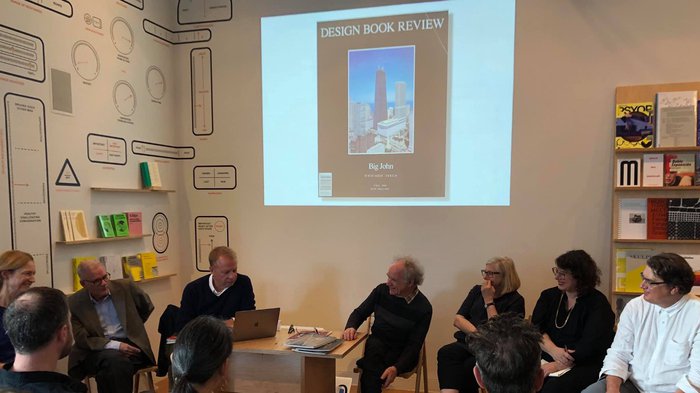 CCA panel on Design Book Review at the Curatorial Research Bureau at Yerba Buena Center for the Arts. From left: Laurie Snowden, John Parman, Keith Krumwiede, Barry Katz, Margaret Crawford, Mimi Zeiger, and Bill Littmann.
The Berkeley-based journal began in 1983 by John Parman, Elizabeth Snowden, Richard Ingersoll, and Cathy Lang Ho—then later published by the California College of the Arts, until 2002. DBR provided a much-needed forum for advanced thinking on the built landscape as well as cities, industrial design, graphic design, land art, and material culture. Design Book Review was essential reading for a generation or writers, providing jargon-free writing by such authors as Janet Abu-Lughod, James Ackerman, Reyner Banham, Manuel Castells, Kenneth Frampton, Phyllis Lambert, William Mitchell, Manfredo Tafuri, and Hayden White.
Founder John Parman wrote a short history of Design Book Review on Medium.
Selected Issues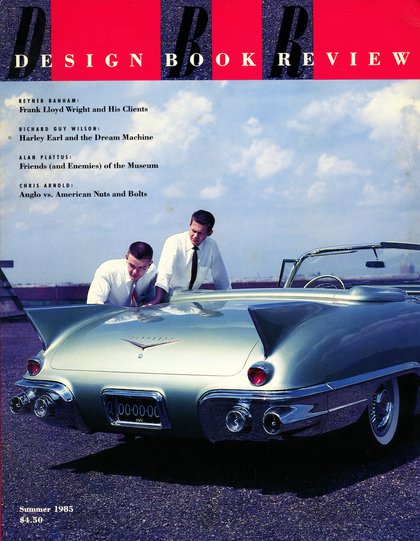 Reyner Banham on recent books on Frank Lloyd Wright, including Frank Lloyd Wright's Hanna House: The Clients' Report, by Paul R. and Jean S. Hanna, Frank Lloyd Wright's Robie House, by Donald Hoffmann, and Frank Lloyd Wright at the Metropolitan Museum of Art, by Edgar Kaufmann, 8
Jerzy Soltan on Le Corbusier: An Analysis of Form, by Geoffrey Baker, 43
Elizabeth Cromley on The Architecture of Finance, by Lois Severini, 47
Alan Cowans on Francis Rattenbury and British Columbia, by Anthony A. Barrett and Rhodri Windsor Liscombe, 49
Nancy Steinhardt on A Pictorial History of Chinese Architecture, by Liang Ssu-Ch'eng, 53
Samuel Gruber on Rome in the Age of Bernini, by Torgil Magnuson, 59
Sarah Chase on Fabrics for Historical Buildings, by Jane Nylander and Wallpapers for Historical Buildings, by Richard Nylander, 80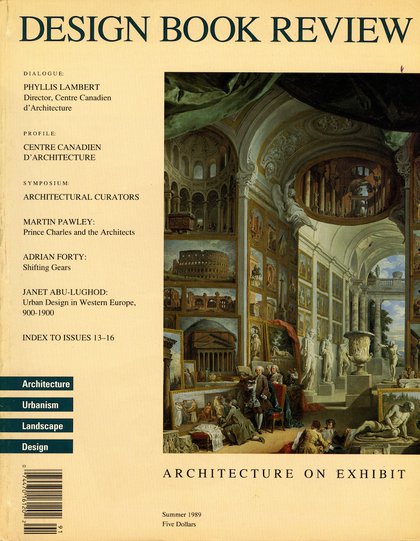 Richard Ingersoll, "Toward an Architectural Museum," 12
Dialog with Phyllis Lambert, Director, Centre Canadien d'Architecture, 17
Discussion on architectural exhibitions with Mildred Friedman, Walker Art Center (23), Georges Teyssot, Milan Triennale (24), John Zukowsky, Art Institute of Chicago (26), Paolo Polledri, San Francisco Museum of Modern Art (28), Stuart Wrede, Museum of Modem Art, New York (29), Ulriche Jehle-Schulte Strathaus, Architekturmuseum, Basel (31), Francois Burkhardt, Centre Pompidou. Paris Departments (32)
Caroline Bruzelius on Building Troyes Cathedral: The Late Gothic Campaigns, by Stephen Murry, 36
Adrian Forty on Shifting Gears: Technology, Literature, Culture in Modernist America, by Cecelia Tichi, 40
Mark Brack on Architects in Competition: International Competitions of the Last 200 Years, by Hilde de Haan and Ids Haagsma, 42
Janet Abu-Lughod on Urban Design in Western Europe: Regime and Architecture, 900-1900, by Wolfgang Braunfels, 54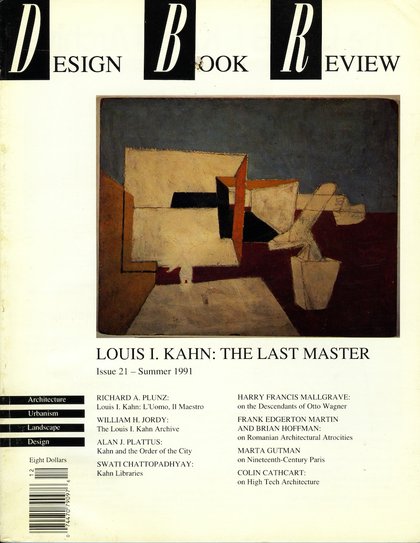 Richard Ingersoll, Louis I. Kahn: The Last Master
Richard A. Plunz on Louis I. Kahn: L'Uomo, II Maestro, by Alessandra Latour, p. 9
William H. Jordy on The Louis I. Kahn Archive: Personal Drawings, by Alexander Tzonis, General Editor and Louis I. Kahn: Complete Works 1935-74, edited by Heinz Ronner and Sharad Jhaveri, p 11
Swati Chattopadhyay on Kahn Libraries/Bibliotecas, edited by Xavier Costa, p. 21
Peter J. Holliday on Bearers of Meaning: The Classical Orders in Antiquity, the Middle Ages, and the Renaissance, by John Onians
Christopher Yip on California Architecture: Historic American Buildings Survey, by Sally B. Woodbridge
Sandra Kocher on The Arts at Black Mountain College, by Mary Emma Harris.
Frank Edgerton Martin and Brian Hoffman on The Razing of Romania's Past, by Dinu C. Giurescu.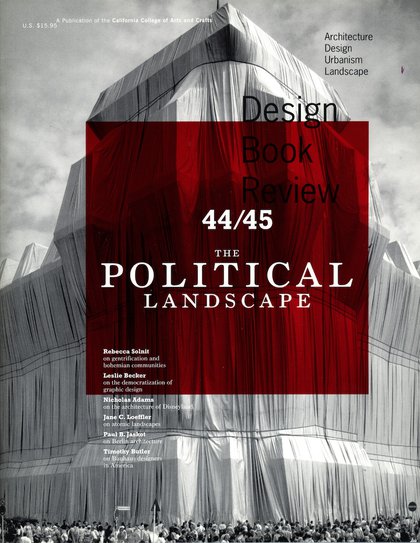 Rebecca Solnit, "A Real Estate History of the Avant-Garde," 6
Robin Greeley on Wallbangin': Graffiti and Gangs in L.A., by Susan A. Phillips and Crimes of Style: Urban Graffiti and the Politics of Criminality, by Jeff Ferrell, 38
Jane C. Loeffler on Atomic Spaces: Living on the Manhattan Project by Peter Bacon Hales and Disarming the Prairie by Terry Evans, 46
Timothy Butler on The Bauhaus and America: First Contacts, 1919-1936 by Margret Kentgens-Craig, 56
Paul B.Jaskot on Capital Dilemma: Germany's Search for a New Architecture of Democracy by Michael Z. Wise and The Ghosts of Berlin: Confronting German History in the Urban Landscape by Brian Ladd, 62
Laurie Puchall on Women and the Making of the Modern House: A Social and Architectural History, by Alice Friedman 68
Kenneth Frampton, Erik Asmussen, Architect, by Gary Coates, 84