The Materials Library collection is organized by material type and cataloged to provide information about an item's manufacturer, composition, properties and industry applications.
Located on the 2nd floor of the main building on CCA's San Francisco campus, between S-16 and the DCC. The collection is displayed for easy browsing, and most samples may be checked out by students and faculty.
The collection features material samples reflecting current building and design markets with a particular focus on smart, emerging and sustainable materials and technologies. We are continually acquiring new and innovative samples.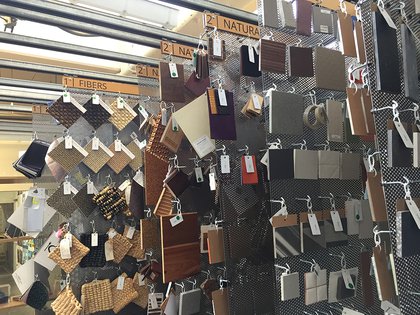 Materials Library samples hung for browsing, and organized by material type.

Material ConneXion Database for online materials research. To create a personal account, giving you access to additional features of the database, use Registration Key: ySzId1600875790
Development of the Materials Library
In development since 1999, the resource center was funded by three major grants from the George Frederick Jewett Foundation (for a total of $75,000).
Leslie Speer, David Meckel, Tim Perks, Tylor Garland, and Matt Paprocki were instrumental in getting the project off the ground. The collection is now administered by the CCA Libraries.