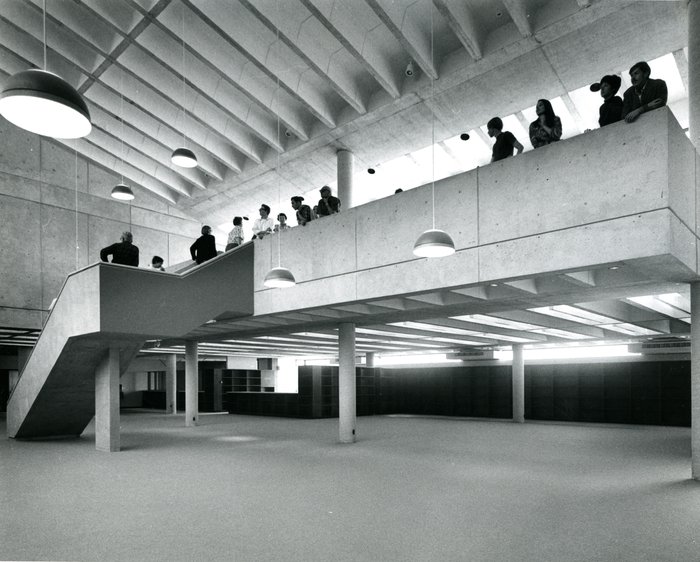 Farewell to Meyer Library
This Friday, May 6th, marks the end of instruction for the spring 2022 semester, and with it, the final closure of Meyer Library as we prepare to merge our collections with Simpson Library in San Francisco.
For over 50 years, Meyer Library has served as one of the Bay Area's premier art libraries and the beating heart of CCA's Oakland campus: one of the few locations at the college intended for students and faculty of all programs and disciplines to work together in a shared space. Meyer Library was more than just a place to conduct research. Formally and informally, the library has served as a classroom, an archive, a gallery, a performance space and even a drawing studio, as generations of first-year students have entered with pads in hand, using the vaulted ceiling and angular staircase to practice their perspective drawing skills.
Meyer's closure marks the end of an era that deserves to be celebrated. Architectural critic Roger Montgomery visited the campus shortly after the building opened, and praised its dynamic presence: "...it is the new library which contributes most on all counts. Here the building's duality of clarity and complexity works most successfully. The concrete structure stands completely exposed…a rich spatial composition of balconies, alcoves, and great double-height main space give it a strong but quiet ambiance."1
Montgomery singled out the soaring windows: "The fenestration seems especially effective - each opening frames a special view of the specimen planting that enriches the campus, or a panorama out across downtown Oakland. the Bay, and San Francisco, or (in the great north window) a framed study of the Victorian administration building. Of the considerable number of art and design school libraries in the Bay Area, this must be the most comfortable, spatially, and satisfying, visually."
We encourage faculty, students, staff, and alumni to visit Meyer Library this Friday, anytime during our open hours of 9am-5pm, to sit under the great north window one more time, to peruse our deep collections on art, design, and photography, or perhaps even pull out a sketchbook or camera to create a final, tangible memory of place and time. We hope to see you here.
Meyer Library checkouts and returns
Meyer Library will be closed after Friday, May 6. Checked-out materials may still be returned to the book drop at the library door until Friday, May 13. After May 13, all items must be returned to the San Francisco campus or by special appointment in Oakland, as the Oakland campus will not be accessible. To schedule an appointment to return library books in Oakland, please email librarynotices@cca.edu.
Books in the Meyer Library collection will migrate to Simpson Library in San Francisco during the summer. Any patrons wishing to check out books from the Oakland collection must place holds for pickup in San Francisco and check the books out at Simpson Library.
More information on renewing library accounts, alumni access, and summer hours may be found here: Summer 2022 Library News