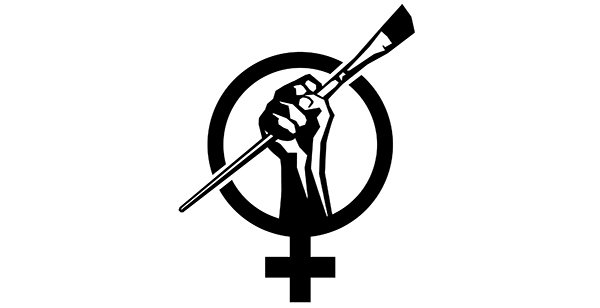 Art + Feminism Wikipedia Edit-a-thon events this month
This year, CCA Libraries will be participating in several upcoming Art + Feminism Wikipedia Edit-a-thons - these events are remote and open to the public, so please attend an event if you are interested!
Art+Feminism is an international community that strives to close the information gap about gender, feminism, and the arts on the internet. Their site includes training materials, lists of upcoming events, and everything else you need to know in order to get started editing.
---
Wikipedia's gender trouble is well documented. In a 2011 survey, the Wikimedia Foundation found that less than 10% of its contributors identify as female. Further, data analysis has concluded that Wikipedia has fewer and less extensive articles on women; those same tools have shown gender biases in biographical articles. This is a problem!
When cis and trans women, non-binary people, Black, Indigenous, and people of color communities are not represented in the writing and editing on the tenth-most-visited site in the world, information about people like us gets skewed and misrepresented. The stories get mistold. We lose out on real history. Since 2014, over 18,000 people at more than 1,260 events around the world have participated in A+F edit-a-thons, resulting in the creation and improvement of more than 84,000 articles on Wikipedia and its sister projects.
---
March 9th 4-8 pm PT SFMOMA's virtual Edit-a-thon
SFMOMA staff will provide a sampling of suggested topics and artists whose entries you might like create, augment, or update — including various artists from the upcoming SFMOMA exhibition, Nobody's Darling. We will also be joined by an experienced Wikipedia editor, who will begin our program with a platform tutorial.
March 10th 1-5 pm PT UC Berkeley: Art+Feminism and Race+Justice
UC Berkeley Libraries are teaming up with the American Cultures Center for this Race+Justice edit-a-thon. In addition to community editing, the event will feature a presentation from Wikimedian and Professor Alexandria Lockett, PhD. For more information, click here.
For more events throughout the world, see the Art + Feminism site for a complete list.
---
Library Staff attended the UC Berkeley event, and were able to create and update important pages for CCAC founding faculty member Isabelle Clark Percy West and CCA Alum Chanell Stone.
Isabelle Clark Percy West (1882-1976) was an American artist, designer and educator based in California known for landscape paintings, early Pacific Coast etching and her role in the founding faculty of California College of the Arts.
Chanell Stone is an African American photographer living and working in Oakland, California known for her "Natura Negra" series.