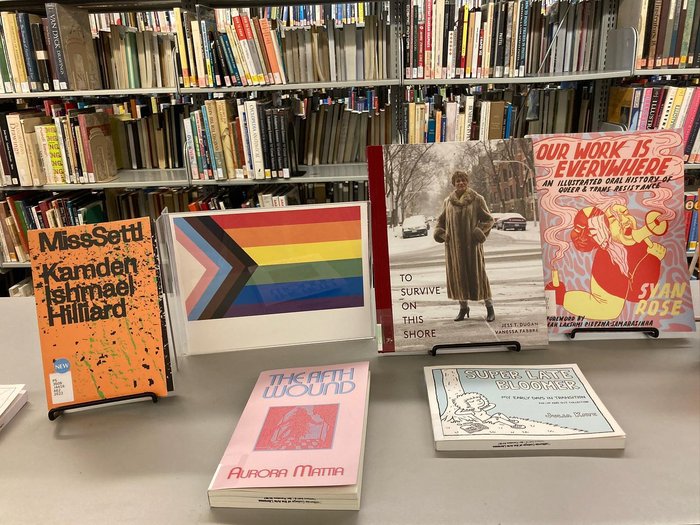 CCA DEIB Community Forum Grant & Pride Month Display
Library Technician and CCA Alum Hannah Lamb-Vines received a DEIB Community Forum Grant to purchase books to expand CCA Libraries collection of the work of trans and non-binary artists and writers.
The Library was awarded $750 to purchase books and films for our collection. All are on display through the summer, and available for check out.
In the process of writing the grant proposal, Hannah analyzed the libraries' collection and found that of the over 60,000 items in Simpson Library, less than 100 (including books, movies, and periodicals) focus on or are written by trans artists and writers. That means less than .001% of our collection represents transgender people, but 1.6% of US adults identify as trans or nonbinary. In fact, 5.1% of US adults under 30 (a demographic that makes up a significant portion of CCA students) identify as trans or nonbinary. (These statistics are taken from a Pew Research Center Survey conducted in May 2022).
Hannah then compiled a list of materials that feature and/or are created by transgender and nonbinary artists and writers. The selections range from poetry collections to photobooks, exhibition catalogs to comics, memoir to critical theory to interview anthology, and a DVD. In addition, over 60% of the titles on this list feature and/or are created by BIPOC or APII artists. At least 30% of the titles are by local artists and writers or creators who are affiliated with CCA (either as alumnae or former faculty). View the list of books purchased here.
Unfortunately, Hannah was laid off in the recent staff layoffs, but Ali Padgett, Erin Murray and Teri Dowling have continued the work on this project - acquiring, cataloging and processing this new collection. Thank you Hannah for your work on this important project! Thanks also to Tricia Brand, Mary Aymor-Thuku and the DEIB Community Forum Team for making the grant possible.