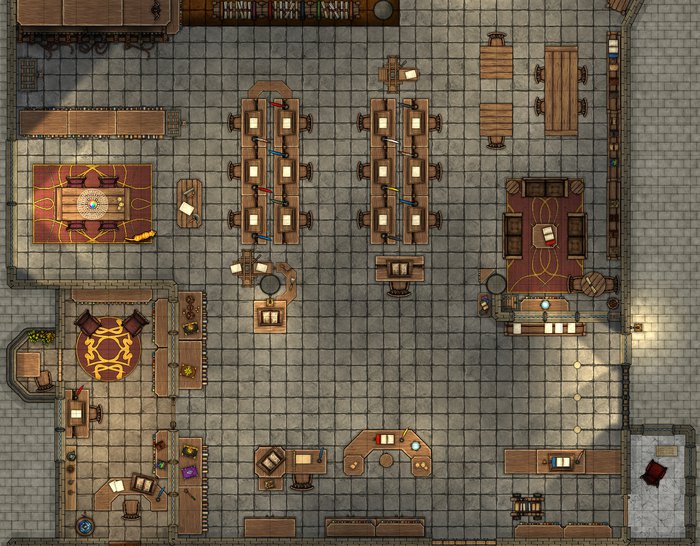 Roll for Initiative: CCA Libraries as Dungeons
Calling on all Dungeon Masters of California College of the Arts!
With Halloween approaching, and to celebrate the launch of CCA's Game Arts program, we invite you to sink your teeth into these reimaginings of Meyer Library in Oakland and Simpson Library in San Francisco. Each library has been reborn as a classic dungeon map, perfect for tabletop roleplaying games.
In this alternative world, Meyer Library is a fantastical, arcane college of magic. The printers have been replaced by printing presses. Candles and orbs cast light into the corners, though it cannot reach the shadowy realm atop the stairs. Treasures await in the dark recesses of the archives, but one must be wary: the college's secrets are guarded by a tarot-reading chimera.
Meanwhile, Simpson gleams from the brass pipes running above and around the library, steam escaping from their vents, retrieving books through clockwork winches. Crystalline screens glow, providing information to the studious patrons of the library. Naturally, the unique sculptures at the Simpson Library circulation desk are recreated here - those innocuous shapes have a powerful influence in the world of roleplaying games.
These maps are ready and playable for any tabletop game that uses a 5' grid system, such as Dungeons & Dragons or Pathfinder. The .jpgs can be hosted on a Virtual Tabletop such as Owlbear Rodeo, Roll20 or Foundry. Universal VTT files are also available for advanced Roll20 and Foundry users. Dungeon Masters of CCA: what perilous adventures can you devise for these dungeons? Let us know if you set an adventure in these mysterious libraries!